Friday, October 26th, 2007
Finally!
Today I am releasing the new, improved version of gljakal's ToDo: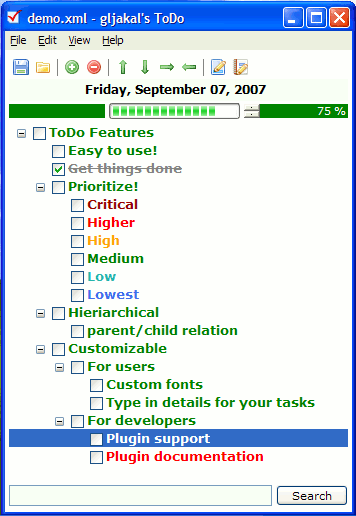 New version highlights:
Stable, documented plugin support:
Now adapting ToDo to your needs is easier than ever. Plugin support is great for custom exports and imports, intranet integration, even synchronization with online services!
New, nicer user interface, with famfamfam's famous icons.
AdvancedStatus plugin
Now you can set a task as 50% (or any %) complete!
Copy & paste inside the details window
You could already do this with CTRL-C and CTRL-V, but now there are also cut-copy-paste buttons inside the details window
Help file
Now you can press F1 inside todo and actually see something 🙂
All the new features in the preview release
Comments & critics are welcome!